COFFEE
We use local roasters like Keystone Coffee. Keystone is California's oldest coffee roaster. Keystone has been roasting gourmet coffees since 1867. Our Keystone coffees are roasted fresh every week! We also supply Peet's (whole bean and ground ) and Starbucks (ground) coffees. You are assured of the highest quality coffee, the utmost freshness and excellent service! Many of our customers enjoy these brands, but others are available upon request. We also supply the full spectrum of coffee related supplies from creamers, sugar, sweeteners, all blends of teas, cups, plastic utensils, plates, bowls, instant oatmeal … you name it, we supply it.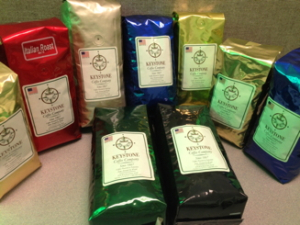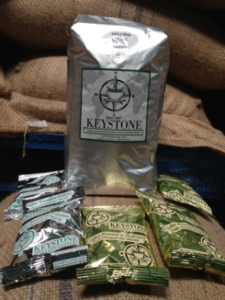 Keystone Coffee    Fractional Packets and whole bean or ground by the pound. French Roast,  Italian, Espresso La Prima or any other roast you like, roasted fresh to your order (not months on a distributor's warehouse).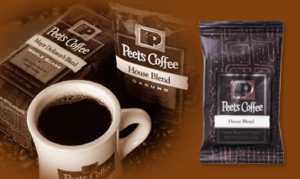 Peet's Coffees    2.5 oz Fractional packets or whole bean by the pound. Peet's Major Dickason's, Peet's House Blend,  Peet's Colombia,  Peet's French Roast,  Peet's Sumatra,  Peet's Decaf House Blend.
Peet's Major Dickason's Blend®    Peet's most famous blend. Combines the best coffees from the world's premier coffee-growing regions. Very full-bodied, complex, rich, and smooth. This is the coffee that many of our customers identify with Peet's. Over the years it has gained a reputation among coffee lovers for its satisfying, rich and mellow (some say comforting) flavor qualities. The blend's components contribute their regional characteristics but are balanced to make a well-rounded cup that is complex yet smooth. Peet's always use the best coffees from each origin for this premier blend, so the customers who order "a pound of Major" won't be disappointed. It produces an exquisite espresso.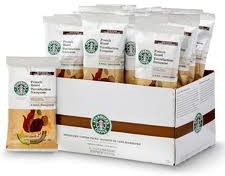 Starbucks Coffees    2.5 oz Fractional packets
French Roast,  House,  Sumatra,  Café Verona,  Breakfast Blend,  House – Decaf
Quality coffee service in the work place is important to employee happiness, productivity and the company's  bottom line. Consider these articles on it's importance!